Efficient and Sustainable Spray Painting
Efficient and sustainable solutions are vital for all of us, and we all need to consider ways in which we can achieve this in our daily activities. 
Protecting the environment is one of the most significant challenges we are facing in the 21st century.
The unprecedented growth in the industry and consumer demand has placed a substantial environmental burden on the planet. 
More and more businesses and consumers are beginning to integrate sustainability into their decision-making in response to this.
There's no doubt that sustainability has never been more critical, and we can start to make a difference by looking at our choices and options more carefully. 
Over time, your uPVC doors and windows will undergo frequent usage and changing seasons. As a result, scratches and etches will appear, the colours will start to fade away, and its aesthetic appeal will decline dramatically.
It's at this point that you might consider a replacement because old and weathered uPVC impacts the overall appearance and value of your property significantly. 
However, in most cases, your doors and windows are still functioning perfectly. The benefit of uPVC is that it is an incredibly durable and long-lasting material, and your uPVC doors and windows will probably last for decades at a time.
Having double glazed windows and triple glazing windows makes your home more energy-efficient and therefore environmentally friendly. So there is usually no need to replace your original uPVC doors and windows.
2. A Sustainable Solution
We live in a society characterised by excessive consumption, even where it is not needed. In this situation, completely replacing the uPVC elements in your home is unnecessary. 
You can re-purpose parts of your home and minimise the waste you produce by repainting, all without having to compromise on the outcomes in any way, with minimal environmental impact.
3. Are Paints Eco-Friendly?
Ultimately, environmentalism and sustainability are about making those decisions and choices which keep our environmental footprint to a minimum. But, unfortunately, many conventional household substances contain harmful chemicals and toxic compounds that harm the environment. 
4. VOCs - Volatile Organic Compounds
Many paints frequently include formaldehyde and plastics collectively known as Volatile Organic Compounds, or VOCs. These VOCs are emitted into the air, and they can continue to produce emissions for up to five years after the paint has dried. 
The European Union has created regulations and limitations to reduce the amount of VOCs found in household products. Still, the truth is that achieving zero levels of these VOCs would be impossible because paints are such complex substances. 
Some manufacturers are working on creating more eco-friendly formulations. However, there is no precise definition of what makes a specific paint more sustainable than others. Despite this, there are ways in which painting can definitively be made more sustainable. 
5. Consider Repainting Instead of Replacing
Compared to the VOC emissions produced by acrylic paints, the environmental impact of actually replacing your uPVC doors and windows is significantly higher. 
The production process for uPVC generates enormous amounts of carbon dioxide into the atmosphere, not to mention the additional impact of packaging and distribution. However, when uPVC is used responsibly, it can be one of the most sustainable construction materials currently available.
An essential part of using uPVC responsibly recognises that it can last longer and function perfectly for decades. Painting your uPVC will not affect the efficiency or energy-saving aspects of your doors and windows. Therefore, instead of replacing it, you need to repaint it periodically whenever it is necessary. 
6. An Alternative to Window and Door Replacements
Spray-painting your uPVC doors and windows isn't just for aesthetic purposes either, because it can even prolong the lifespan of the actual materials as well. All paintwork is guaranteed for a minimum of ten years.
Spray painting produces a fraction of the emissions generated to produce a brand new uPVC door or window; spray painting uPVC is always a better option.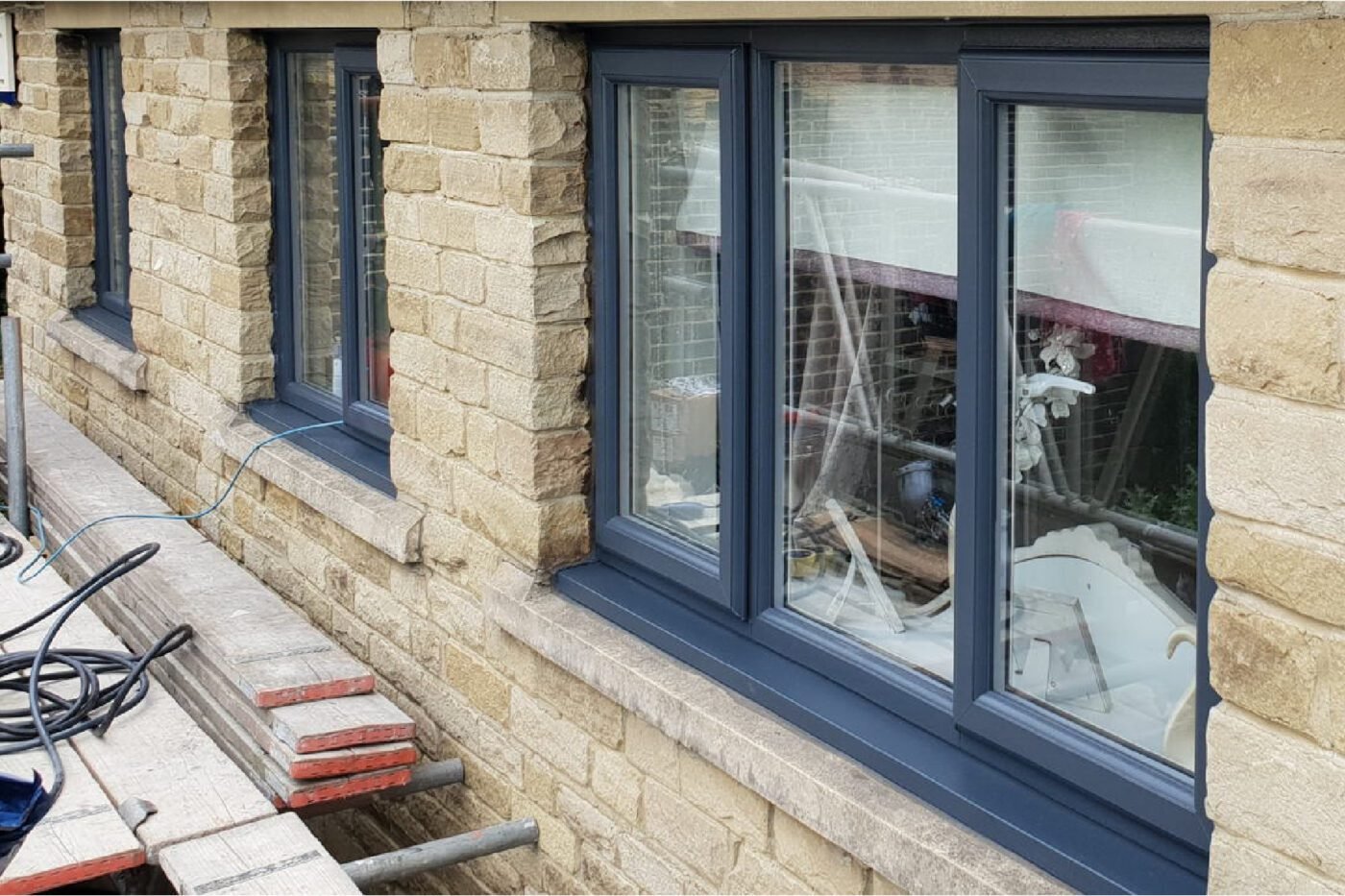 7. What Can Businesses Do?
Sustainability addresses critical issues and problems within a business practice that are often overlooked. Aiming to turn these around and create business practises which are beneficial and give to the environment and community rather than taking from them and stripping them of their resources. 
In essence, a sustainable business actively strives to create policies and structures which ensure the environmental impact is kept to a minimum. Regularly seeking new ways in which to do this is fundamental.
8. Our Commitment to Sustainability
We're committed to reducing our impact on the earth without compromising quality. Therefore, we endeavour to implement eco-friendly practices wherever we can. As a result, we can drastically reduce our consumption of precious resources whilst simultaneously repurposing recycled materials. 
We have incorporated a range of eco-friendly initiatives as standard practices within our company. For example, we require significant masking/protection paper for our projects which are recycled and sourced from sustainable and eco-friendly suppliers. 
In addition, we only purchase and use old clothes, which would otherwise be discarded, as rags. What's more, we don't use aerosols, so there are no concerns about the can being impossible to recycle and therefore going to waste. 
9. Every Little Step Helps
Before painting, our professional painters will prepare the surfaces to be painted and ensure no blemishes or imperfections. What's more, the specialist paints we use will protect the uPVC elements of your home from fading, weathering and even UV deterioration. Thus, a minimal amount of resources is used for long-lasting and desirable results.
When it comes to the equipment and materials our professional painters use, we ensure that our suppliers and manufacturers are as committed to sustainability and environmentalism as we are. 
We endeavour to reduce our environmental impact in whatever way we can while delivering uncompromising quality and flawless results. We eliminate many of the waste and pollutants from any projects we do with you to ensure that our overall painting process is as sustainable as it can be.
10. Professional Spray Painting Service
We are experts in the industry and are committed to delivering flawless results through our spray painting services. Our meticulous preparation and professional techniques will always ensure a perfect finish. 
If you wish to have your uPVC's painted instead of replaced, we can offer you a competitive price. We guarantee our paintwork for ten years and produce outstanding results along with fantastic customer service.
For a free no-obligation quote, simply fill in your details below and we'll be in touch. Alternatively, click on the number below to speak to one of our friendly team members.
Call one of our friendly team members
or fill in the quick short form below and we'll be in touch to provide a free no-obligation quote.